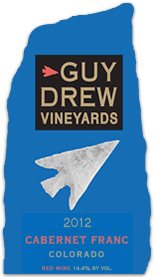 Cabernet Franc
The color is bright but not as dark as most of our wines from Bordeaux varieties, but has a lot of body. Aromatic cherry and violets dominate with a hint of cigar tobacco on the nose. The palate is bright cherry and ripe plum fruit, a bit of eucalyptus and fresh dill and the classic Cab Franc hint of steel. Roast duck, grilled chicken, grilled halibut or short ribs should compliment nicely.
Order
$25.00
Cabernet Sauvignon
The fruit for this Cab was sourced from the Yucca House Vineyard at the Box Bar Ranch on the east side of the Sleeping Ute Mountain in the south part of the Montezuma Valley. Dark in color with flavors of bright cherry and plum, firm tannins that will soften with age.After two years of aging with French oak, this wine was bottled in late February 2015. 2016 International Eastern Wine Competition GOLD MEDAL winner.
Order
$22.00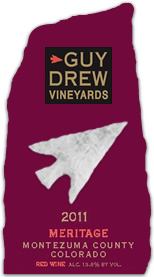 Meritage 2011
67% Merlot 27% Cabernet Sauvignon 6% Cabernet Franc The Merlot in this Meritage contributes bright berry and mocha flavors with firm tannins for structure. The Cabernet Sauvignon and Cabernet Franc offer soft cherry and acidity to the front palate and balance the mouthfeel for a smooth finish.
Order
$19.00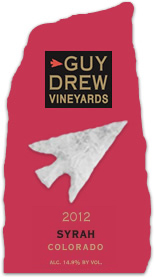 Syrah 2012 (SOLD OUT UNTIL FALL 2016)
Mouth-watering dark berry and black cherry flavors, balanced acidity and a peppery, slightly smoky finish. Pair with Colorado Lamb, spicy grilled chicken and any kind of BBQ.
Order
$18.00
Merlot 2015
Bright cherry and strawberry fruit dominate this easy drinking wine. Having twelve months in older French oak barrels give the wine structure without overpowering oak flavors. Perfect as a everyday wine that pairs with most foods.
Order
$16.00
Meritage
This blend of 60% Merlot, 20% Cabernet Sauvignon and 20% Cabernet Franc was aged with three toast levels of French and American oak for eighteen months. Bright fruit from whole berry fermentation, balanced acidity and tannins give this wine great aging potential. Fruit was sourced from Palisade and Cortez Colorado vineyards and fermented at 83 degrees using multiple Bordeaux yeast strains.
Order
$19.00
Syrah 2015
Mouth-watering dark berry flavors and licorice, balanced acidity and a peppery, slightly smoky finish. Pair with Colorado Lamb, spicy grilled chicken and any kind of BBQ.
Order
$18.00
Metate 2015
This version of our Metate is mostly Cabernet Sauvignon that brings big, bright cherry flavors and acidity. The Syrah lends depth and roundness to the mouthfeel. French oak lends supporting tannins and vanilla to the mid palate and finish which lingers on.
Order
$25.00
Lil' Mischief 2016
This wine is a perfectly sweet blend of Merlot and a relatively unknown grape called Baco Noir. Fermentation was long and cold to bring out flavors of pomegranate and cranberry. The natural acidity gives a clean finish and leaves you wanting another glass. Serve cold for an amazingly easy drinking surprise.
Order
$16.00